The Hospital headed by Dr.P.K.Mohammed Bappu specializes in Marma treatments which is based on the fact that injuries to sensitive or vulnerable points on the body quickly affects the health and vitality of a person and some cases prove to be fatal too. Understanding importance of Marma's in Ayurveda Dr.P.K.Mohammed Bappu wanted his initiative to specialize in treatments that concentrates on therapeutic marmas. A team of well qualified physicians, masseurs and assistants work together to cure diseases associated with Spinal disorders & Joint disorders, all kind of Prolapsed disc (IVDP), uterine , bladder , Anal and ever increasing lifestyle diseases.
Dr.P.K.Mohammed Bappu have been awarded Nehru peace foundation Award for the best promotion & development of Ayurveda and were chosen for Young Achievers Award by Ayurveda Hospitals Managements Association.
Dr.P.K.Mohammed Bappu received "Nehru Peace Foundation Award" from Honorable Minister Sri.C.Divakaran for his selfless meritorious performance in the field of Ayurveda.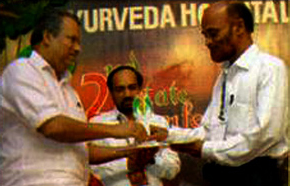 Dr.P.K.Mohammed Bappu receiving Young Achievers Award from Sri.Mullakkara Ratnakaran Honorable Minister for agriculture, Govt of Kerala.